RETURN TO HOME ;)
-- "If Benjamin Franklin were alive today he'd be thrown in jail for sailing a kite without a license."
~ Preston Tucker, inventor of the
Tucker
automobile
(the
movie
starring Jeff Bridges is highly recommended)
-- "Your call yourself a patriot, and loyal Subject to the Crown??"
"I do not call myself subject to much at all..."
-- from the movie Last of the Mohicans
"Responsibility, not to a superior, but to one's conscience, the awareness of a duty not exacted by compulsion, the necessity to decide which of the things one values are to be sacrificed to others, and bear the consequences of one's own decision, are the very essence of any morals which deserve the name. "
~ Friedrich A. Hayek
A LETTER TO THE GOVERNMENT


To: President Obama and all 535 voting members of the Legislature, and 100 Senators:

- The U.S. Post Service was established in 1775. You have had 234 years to get it right and it is broke.
- Social Security was established in 1935. You have had 74 years to get it right and it is broke.
- Fannie Mae was established in 1938. You have had 71 years to get it right and it is broke.
- The War on Poverty started in 1964. You have had 45 years to get it right; $1 trillion of our money is spent each year, and we still have plenty of poverty.
- Medicare and Medicaid were established in 1965. You have had 44 years to get it right and they are broke.
- Freddie Mac was established in 1970. You have had 39 years to get it right and it is broke.
- The Department of Energy was created in 1977 to lessen our dependence on foreign oil. It has ballooned to 16,000 employees with a budget of $24 billion a year and we import more oil than ever before. You had 32 years to get it right and it is an abysmal failure.

You have failed in every "government service" you have shoved down our throats while overspending our tax dollars.

AND YOU WANT US TO BELIEVE YOU CAN BE TRUSTED WITH A GOVERNMENT-RUN HEALTH CARE SYSTEM?

---
Watch the video
The Face Of The Next Genration
about what we're handing the ones who come after us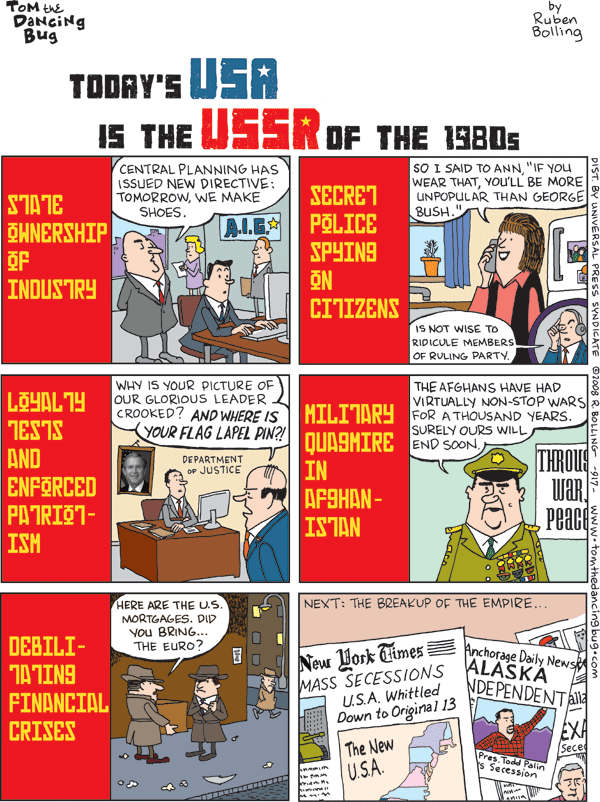 Our Semi-Soviet Surveillance State
(trust
US
....
WE
lost to the Soviet ;)
"He who fights with monsters might take care lest he thereby become a monster."
~ Friedrich Nietzsche
LIBERTARIAN HUMOR
- You might be a libertarian if you believe...
"If you think 99 percent of politicians give the rest of them a bad name, you might be a Libertarian."
(click for more)
---
"More freedom can never be gained by giving up freedom, no matter the rationale."
-- Texas Congressman Ron Paul
Ron Paul's "10 Principles of a Free Society"


1 - Rights belong to individuals, not groups; they derive from our nature and can neither be granted nor taken away by government.
2 - All peaceful, voluntary economic and social associations are permitted; consent is the basis of the social and economic order.
3 - Justly acquired property is privately owned by individuals and voluntary groups, and this ownership cannot be arbitrarily voided by governments.
4 - Government may not redistribute private wealth or grant special privileges to any individual or group.
5 - Individuals are responsible for their own actions; government cannot and should not protect us from ourselves.
6 - Government may not claim the monopoly over a people's money and governments must never engage in official counterfeiting, even in the name of macroeconomic stability.
7 - Aggressive wars, even when called preventative, and even when they pertain only to trade relations, are forbidden.
8 - Jury nullification, that is, the right of jurors to judge the law as well as the facts, is a right of the people and the courtroom norm.
9 - All forms of involuntary servitude are prohibited, not only slavery but also conscription, forced association, and forced welfare distribution.
10 - Government must obey the law that it expects other people to obey and thereby must never use force to mold behavior, manipulate social outcomes, manage the economy, or tell other countries how to behave.

Articles and Speeches by Ron Paul